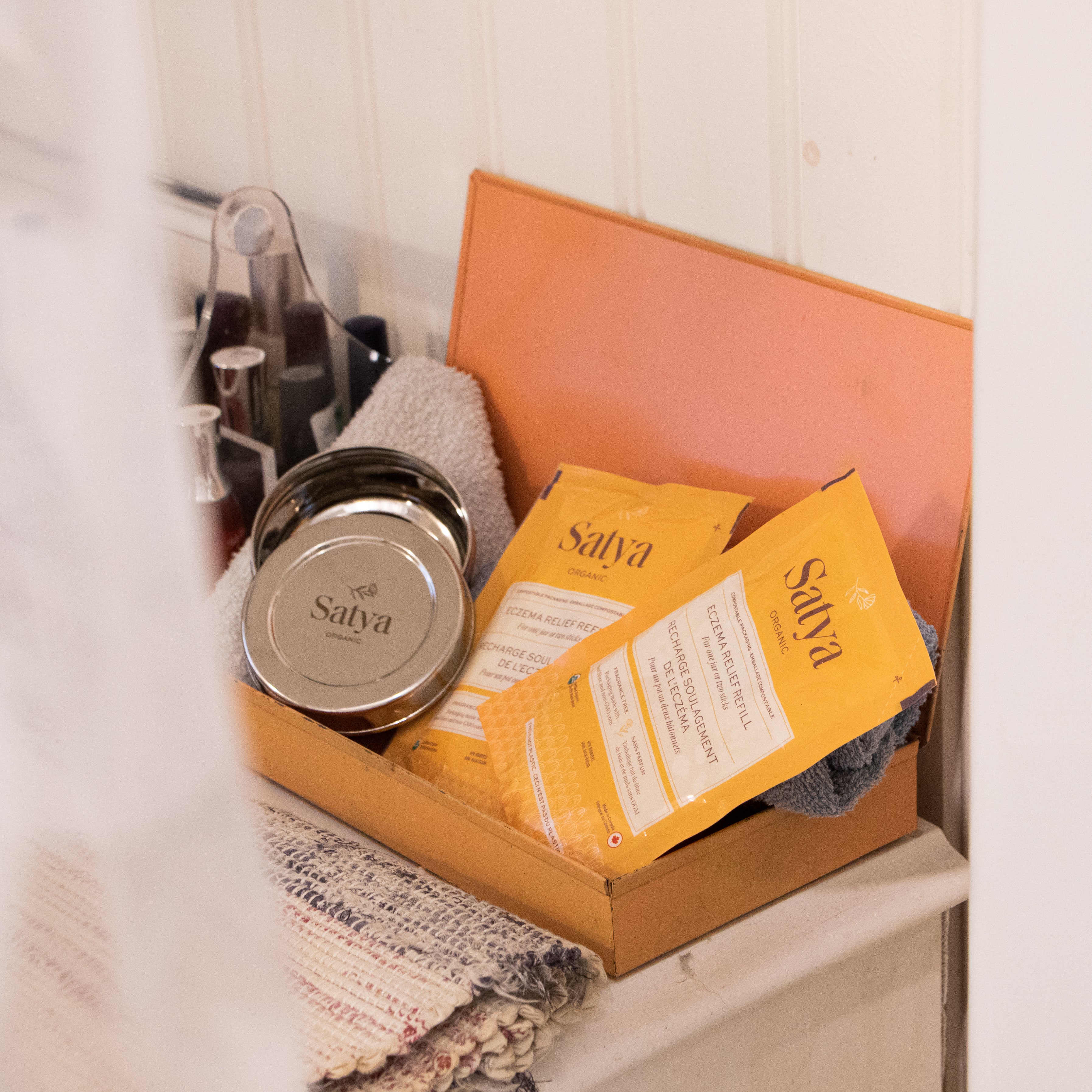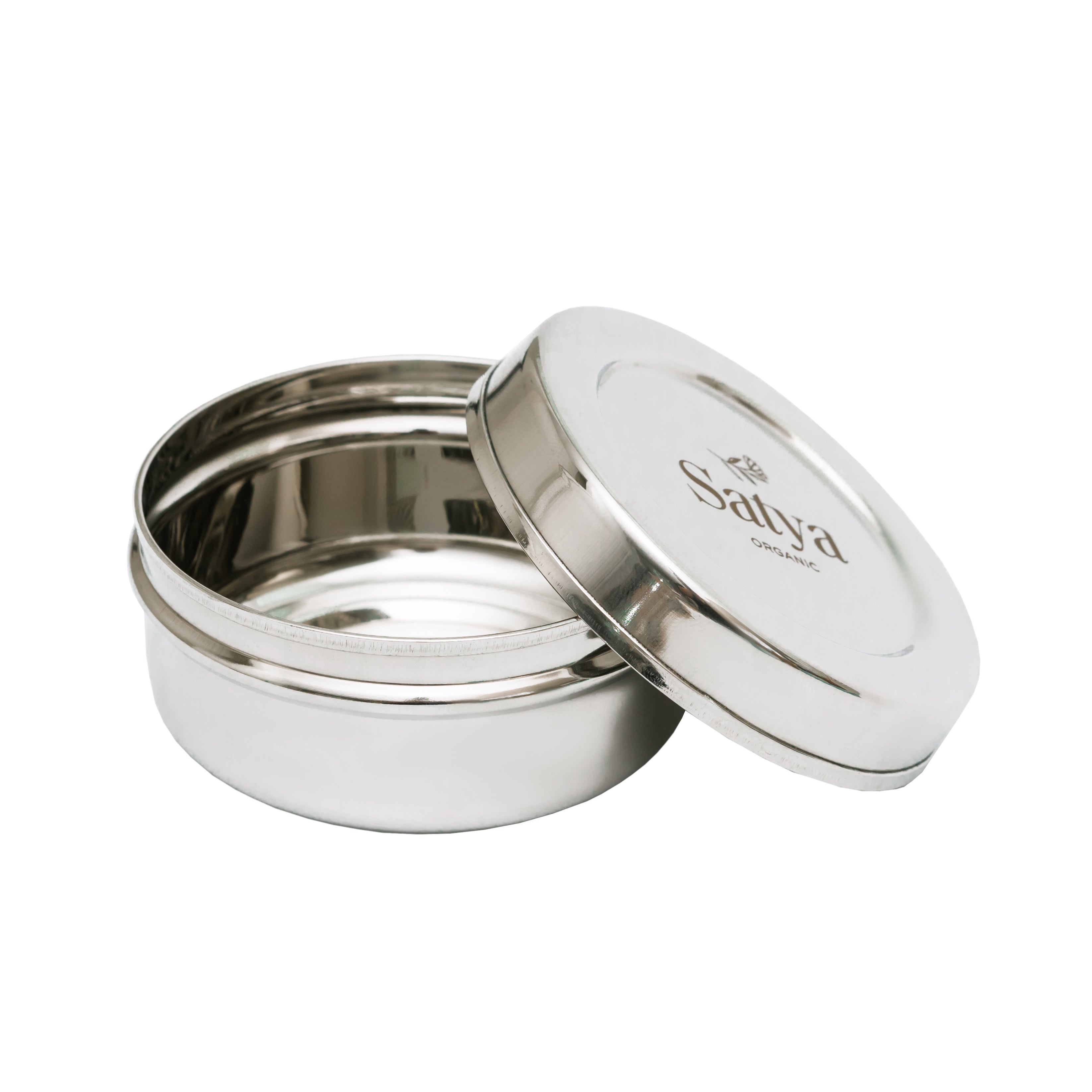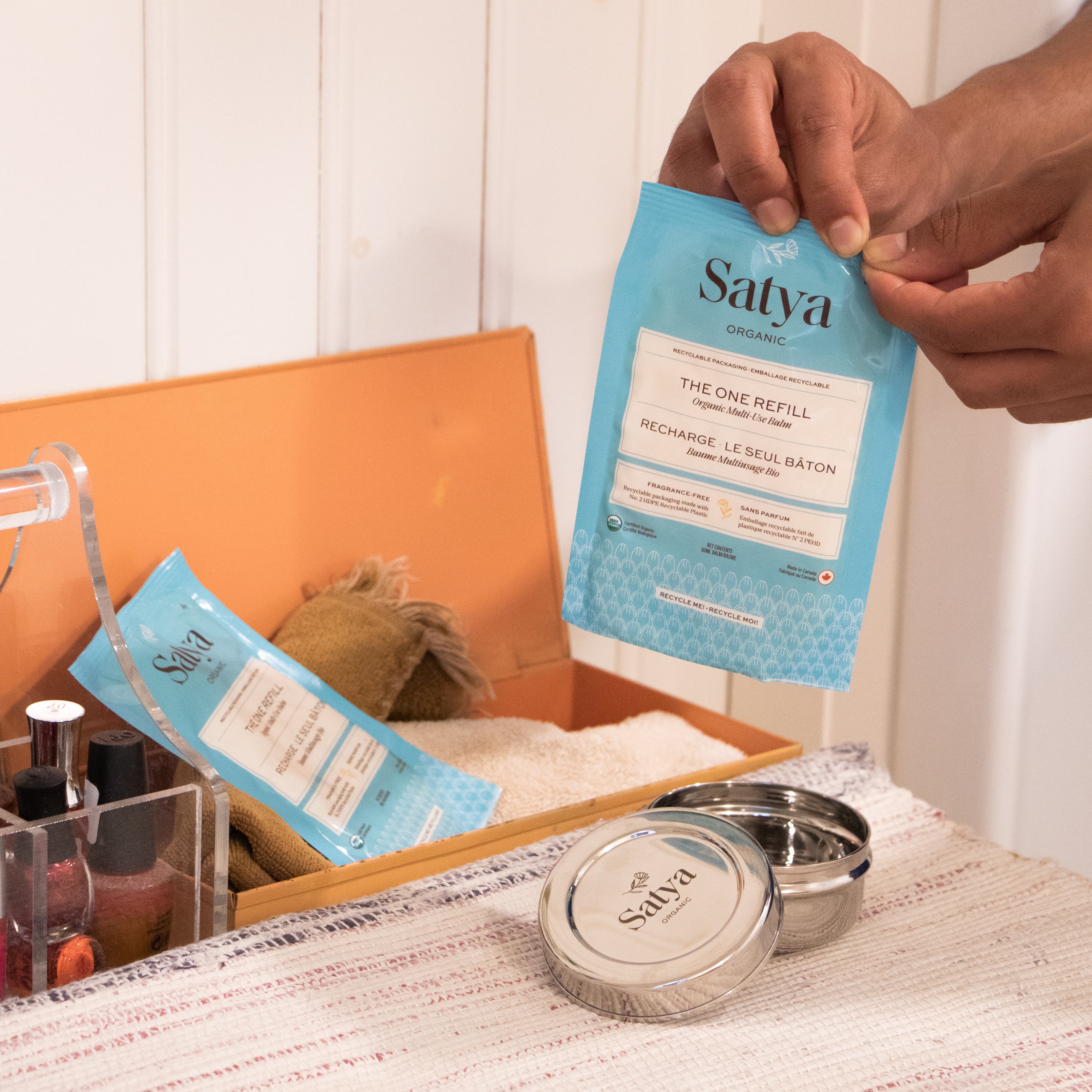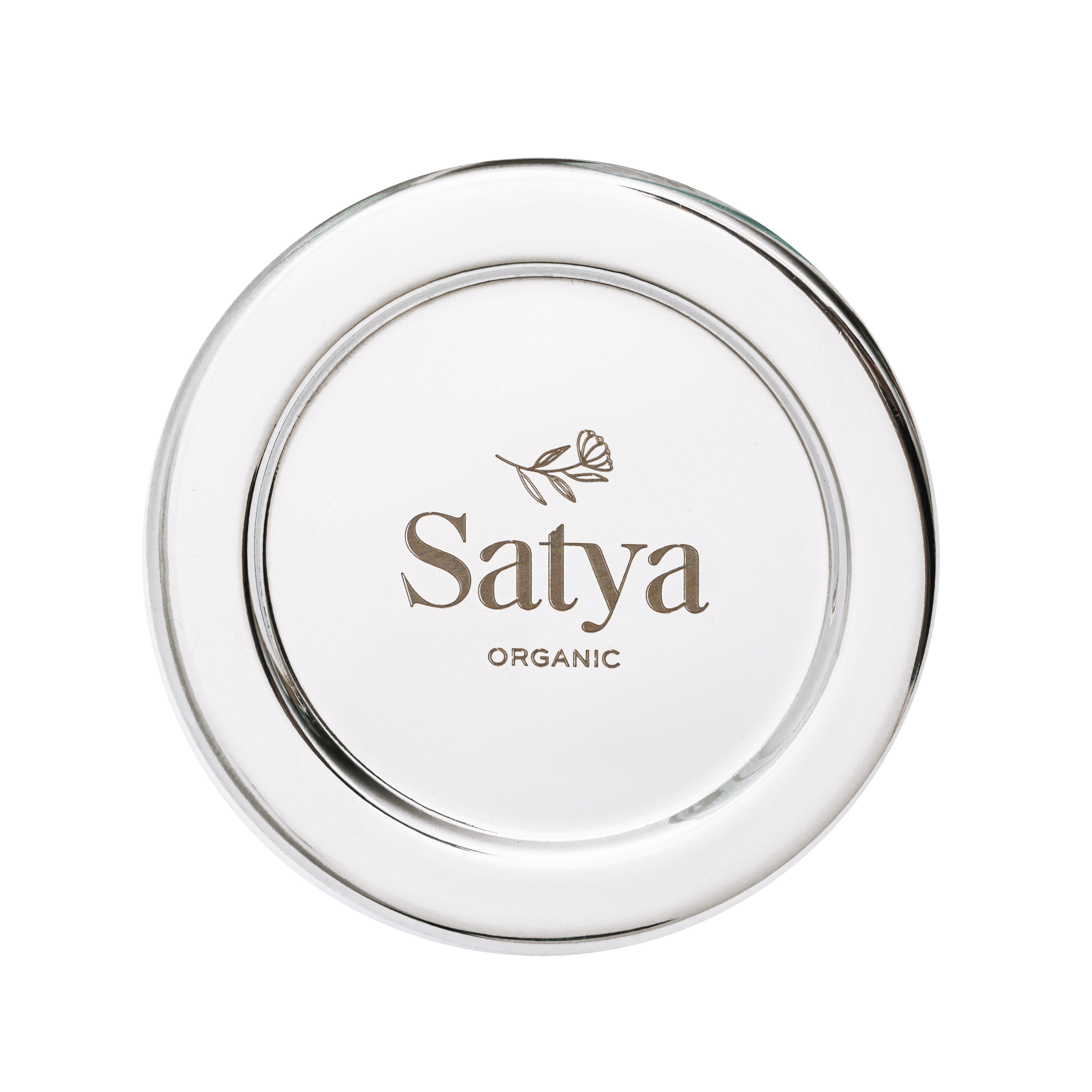 Experience enhanced skin relief with Satya Steel, the ultimate portable solution for your favourite Satya organic eczema relief products. 
Satya's new Stainless Steel containers are highly durable, non-porous, and infinitely reusable, as well as being food and oven-safe, providing an eco-friendly option for your eczema treatment routine. 
For convenient refills, purchase the Refill Pouch (sold separately), containing Satya's trusted and proven effective topical anti-inflammatory formula. You can refill one Satya Stainless Steel container, one Satya Jar, two Satya Sticks, or 8 Satya Travel Tins with one pouch! The process is as simple as emptying the pouch contents directly into your Satya stainless steel container and melting it into liquid. It's so easy; you'll feel like it's magic!
Elevate your skincare experience with Satya Steel, ensuring that you always have your favourite eczema care products within reach.
1. Empty your Satya Pouch (sold separately) contents directly into Satya stainless steel container.
2. Melt down into a liquid in oven. The melting is the magic!
3. Turn off heat. Let cool in oven to solidify.
4. Compost pouch & enjoy your Satya!
Satya's NEW Stainless Steel containers are highly durable, non-porous, AND infinitely reusable, making them the perfect container for holding your Satya.
We believe steroid-free and alcohol-free eczema solutions should be accessible to everyone. Don't love your Satya? Satya promises a 100% money-back guarantee if you are not satisfied with our product.
Absolutely! Satya is safe to use anywhere on the body, including the face and the hair/scalp area.
Yes! We have received the Pediatrician Approved seal, which means all Satya products are safe for children over the age of 6 months to use.
No! Our formula is made of natural and organic ingredients carefully selected to ensure that it's gentle enough for sensitive skin and will not sting when applied. 
At Satya, we believe you should be able to shop with convenience! That's why we offer a range of flexible payment options to suit your payment preferences. You can make purchases with ease using all major credit cards, securely pay through PayPal, or enjoy the flexibility of Afterpay. Your shopping experience, your way.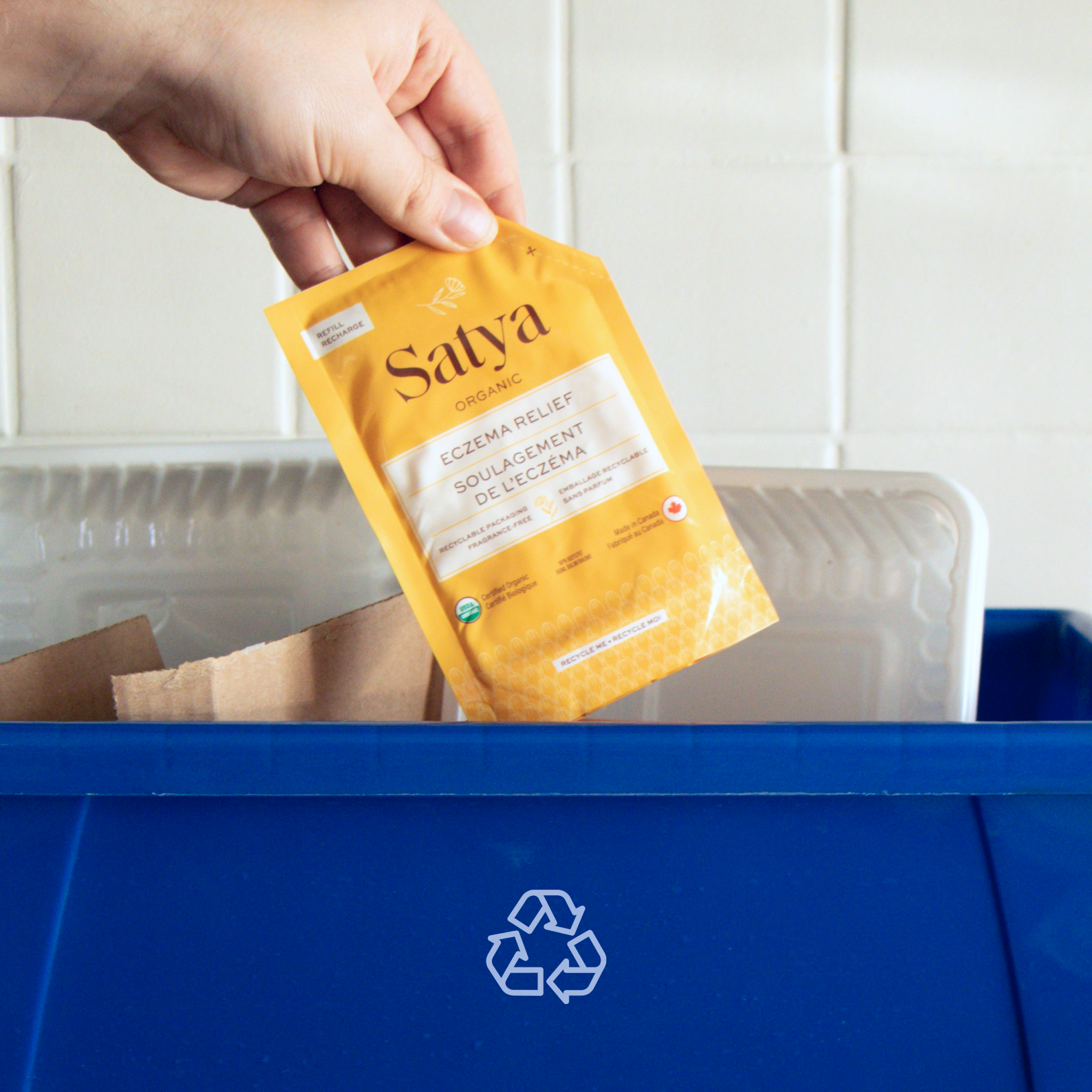 Refill The Love
Refill any Satya product with our Refill Pouch in 3 easy steps:
1. Empty the pouch contents into a heat-proof container.
2. Melt in oven or microwave. The melting is the magic!
3. Pour into your Satya container. If you're refilling the Satya Stick, twist all the way down and pour in from the top.
4. Let cool.
Satya's Packaging
All our packaging is recyclable or refillable. Our paper packaging is made from recycled materials and printed with veggie and soy-based inks.We recognize the impact producing and distributing a product has on our planet, and we are proud to be a 100% carbon neutral and plastic neutral company.Your purchase helps combat ocean plastic and world poverty through The Plastic Bank.
DISCOVER SATYA