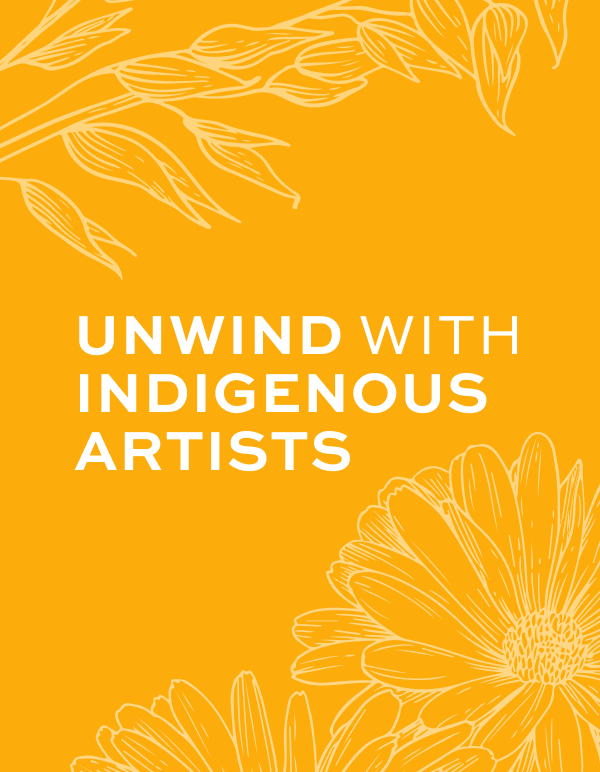 SATYA'S SOUL-SOOTHING SOUNDS
Contemporary Indigenous artists for you to discover and help you unwind.
This is a hand-picked collection by Satya founder Patrice Mousseau with some of the best and most soothing Indigenous music from across Canada. 
This playlist was designed to be enjoyed while soaking in Satya Organic's Calendula Flower Oat Bath. So hop in the tub, turn up the music, and let these soothing soundscapes soak away your day.
Learn more about each of these innovative artists by reading their bios below.
Quantum Tangle
Quantum Tangle are a Juno Award-winning Canadian musical group who combine traditional Inuit throat singing and spoken word storytelling with blues-influenced folk rock, consisting of vocalist Tiffany Ayalik, Kayley Inuksuk Mackay as drummer, vocalist and throat singer, and singer and guitarist G. R. Gritt.
Riit
From the land that never melts comes a sound that radiates life, youth and promise. Riit, from majestic Panniqtuq, Nunavut, is a new artist making space for herself in the electropop world with Inuktitut lyrics and deep rhythmic vocals layered over gemological synth cuts and sticky, staticky electronic textures. Riit's music emerges from very distinct circumstances of place, language and experience.
Jeremy Dutcher
Jeremy Dutcher is a classically trained operatic tenor and composer who takes every opportunity to blend his Wolastoq First Nation roots into the music he creates, blending distinct musical aesthetics that shape-shift between classical, traditional, and pop to form something entirely new.
The Jerry Cans
Iqaluit's The Jerry Cans are a band from and for the north—they've always been committed to making music that honours and dialogues with their home communities. From buzzing indie rock to towering shoegaze to moonlit country to Arctic post-punk, The Jerry Cans continue a tradition of celebration and resistance through music, marching in lockstep and acknowledging the vital, fortifying importance of both.
Willie Dunn
Vocalist, songwriter, activist, poet, filmmaker, and artist Willie Dunn is a vitally important figure in the North American folk community, both for the excellence of his songs and for boldly using his work as a platform for furthering the cause of Native rights in his Canadian homeland. Dunn's songs often deal with political and social issues, but his lyrics are artful rather than didactic, and the rich tone of his voice brings out the humanity of his music.
Amanda Rheaume
Amanda Rheaume's rootsy, guitar-driven ballads introduce crucial dimensions to the world of Heartland Rock. In a genre characterized by anthems of underdogs, assumptions and unfair advantages, Rheaume's sound and story crucially and radically expand the boundaries, geographic and cultural, to make space for new perspectives on resistance and resilience. A Citizen of the Métis Nation, and an active and proud member of the 2SLGBTQ+ community, Rheaume's music is indeed from the heart, and the land.
Digging Roots
Digging Roots breathe life into songs from their land, Turtle Island, to raise their voices in solidarity with a global chorus of Indigenous artists, activists and change-makers. For over a decade, two-time JUNO Award winners Digging Roots have traveled the world with a joyful message of resistance, celebrating Anishinabe and Onkwehonwe traditions of round dance and interconnectedness interwoven with the bedrock sounds of blues, soul and rock n' roll.
MICHELLE ST JOHN
Michelle St John initially rose to fame through her fruitful career as an actress, where she starred in films such as Where the Spirit Lives, Coyote Summer, and Smoke Signals. While juggling her acting career, St John founded the Turtle Gals Performance Ensemble in 1999, where she presided as Co -Managing Artistic Director. The enterprise has collated many awards for its short films, and its film, The Triple Truth, was nominated for a Dora Award. Her music celebrates Indigenous culture and makes for a powerful listening journey for her audience.
Joe Grass
Joe Grass has been writing his own music for almost 20 years. Since moving from Moncton to Montreal he's become one of this city's most sought-after musical partners, collaborating with Lhasa, Patrick Watson, Elisapie and the Barr Brothers—as well as working with his avant-pop band, Klaus.
Matiu
Matiu was born and raised in Quebec, in the Cote-Nord region. With a voice raw as unsanded wood, he delivers his message through his music with humour and honesty, always true to himself. Winner of the Teweikan Emerging Artist Prize, the singer-songwriter released his first EP in Spring 2017, just after touring across Quebec.
Kanen
Revelation Radio-Canada 2022-2023, nominated for Folk Artist and Emerging Artist at the Gala Teweikan 2022 and for Indigenous Artist of the Year at the Gala ADISQ 2021, Kanen is a singer-songwriter from the Innu community of Uashat mak Mani-Utenam. In April 2023, she will release her long-awaited first album with a new show in which she presents herself fully incarnated in all her complexity, a more raw musicality, her punk energy marked by a great poetry that brings strong emotions.
Twin Flames
Twin Flames build bridges across cultures, continents, and styles, and have been celebrated internationally. From the beginning, this husband and wife duo has chosen to let their music speak for itself. Jaaji (Inuk from Nunavik and Mohawk from Kahnawake) and Chelsey June (Algonquin, Métis, Cree + Settler) write songs delivered through a mix of English, French and Inuttitut.
Leela Gilday
A passionate singer/songwriter and soulful performer, Leela Gilday has a voice that comes straight from the heart. Confessing her stories to her audiences with a gutsy voice and open stage presence, Gilday weaves her experiences as a northerner, a member of the Dene nation, and a traveler into a beautiful world that transports the listener.
Elisapie
Elisapie's unconditional attachment to her territory and her language, Inuktitut, remains at the core of her creative journey. Born and raised in Salluit, a small village in Nunavik which is only accessible by plane, Elisapie is an emblematic Canadian Inuk singer-songwriter. Since winning her first Juno Award in 2005 with her band Taima, Elisapie's body of work has been praised many times.
Robbie Robertson
Robbie Robertson was the architect of the Band, the one-time Bob Dylan backing group who profoundly changed the course of popular music in the late 1960s. As their principal songwriter and chief conceptualist, Robertson helped develop the idea of Americana music by spinning North American history into myths and undergirding his songs with a fusion of rock & roll, blues, folk, and country.
DON'T FORGET TO STAY TUNED FOR MORE UPDATES AS WE ADD MORE TRACKS FROM AMAZING INDIGENOUS ARTISTS.
And follow us on Spotify so you never miss a beat! (Pun intended).